Proactive Approach to Eliminating Germs in High Frequency Touch Points
At the start of 2020, businesses were left reeling in responses to the COVID-19 pandemic. Elements of fear and uncertainty were present not only in our daily lives, but in our businesses as well. As the resilient human spirit often does, fear turned into fortitude and the feeling of uncertainty was replaced by a call to action. Industries and their leaders found themselves navigating the "new normal" by asking questions such as "What comes next?" and "How do we continue to service our clients?" As Thru-Wall began to ask these questions, it was clear that businesses and facilities were going to need to ramp up efforts to maintain clean, disinfected environments eliminating opportunities for transmissions of illnesses, specifically COVID-19.
A building's traffic flow and touchpoints were closely studied as a response to state and local recommendations. Doors, hardware and exit devices were areas of concern. With struggling budgets, healthcare facilities, commercial offices, schools and higher education campuses were finding their solution of multiple cleanings throughout the day were exhausting manpower and resources.
Thru-Wall has seen a growing need for overseeing, coordinating and inspecting low-touch and no-touch door hardware as well as electro-mechanical doorway components ASSA ABLOY Door Secuity Services stated, "these door hardware solutions coupled with proper hardware cleaning techniques improve facility safety by mitigating the spread of germs through high frequency touch points within a building".
Our team has been engaging directors of facilities on coordinating and overseeing this type of work. There is a steady rise in requests to assist with converting mechanical openings to touchless. With the extreme documentation in place, for existing clients, the process is cost efficient, streamlined and Thru-Wall eliminates layers of process by managing the work overall.
According to Brian Messina, Kamco's door division manager, there are a variety of manufactures and products to choose from to electrify or accessorize an opening for touchless operation.

Thru-Wall's proactive approach to navigating barrier management in the time of a pandemic only solidifies their commitment to the clients served.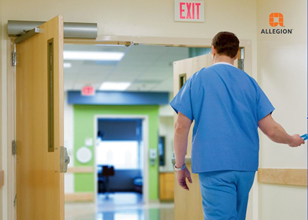 Low Energy Automatic Operators
All types of swing doors can be easily upgraded to open touchlessly using a Low Energy Door Operator paired with a wave-to-open switch, RF device, and/or remote control fob.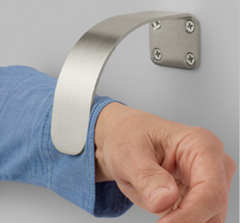 Arm Pull with Plate
Replace your existing door pull with this handsfree version or add above or under existing for hands-free solution.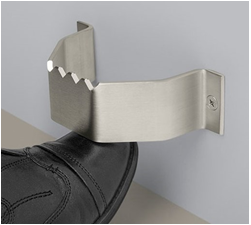 Foot Pull with Grip
Hands free solution to pull door by pulling from under or placing foot on top of grip.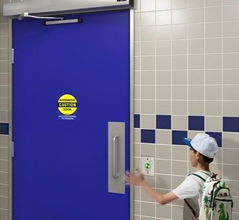 Touchless Door Actuators
Reduce the spread of germs with touchless door actuators that operate with the wave of your hand.